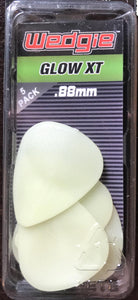 Wedgie - GlowXT .88mm Guitar Picks (5 Pack)
Light, stable, photoluminescence technology blended with high quality nylon makes this pick a show stopper. Light up the stage for endless hours of glow in the dark fun with our unique ergonomic, textured grip allowing for snappy release and hard-rocking sound.
* Pack includes 5 picks.