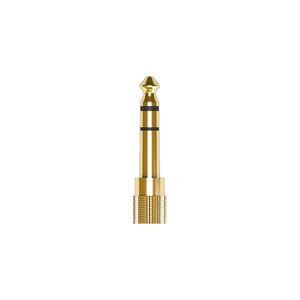 MEE Audio - 1/4 to 1/8 audio adapter
Gold-plated ¼" (6.3mm) stereo adapter that allows compatibility with a wide range of gear for your in-ear monitors, earphones or headphones.

Gold-plated to prevent signal degradation, this premium-quality adapter is 3.5mm (1/8") stereo TRS (TRRS compatible) female to 6.3mm (1/4") stereo TRS male. Features a knurled grip for ease of use.

Compatible with all headphones using a 3.5mm (1/8") plug.