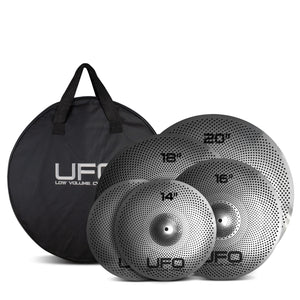 UFO Cymbals - Low Volume Cymbal Set
UFO Low Volume Cymbals are cymbals made for practice use. They feel and respond like traditional cymbals – all the way from the bell to the edge. They even have some of the same sound characteristics – only at a greatly reduced volume.
These cymbals are fantastic for a small practice kit, or if you want to have the real feel with your e-drums (no triggering offered though). UFO's also work great for making cymbal stacks with traditional cymbals.
Did we mention that the UFO's are affordable too?
The UFO's are developed to behave like traditional cymbals, only at a reduced volume. This enables you to play like you would normally play – no need to hit harder in order to hear yourself, which makes for a much more relaxed and enjoyable practice session.
The UFO's are made from durable zinc, and can be purchased in sets or seperately.
Includes:
* HH 14", Crash 16" & 18", Ride 20"
* UFO Cymbal Bag