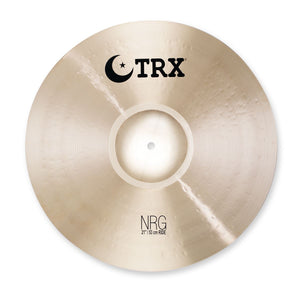 TRX Cymbals - 21 inch NRG Ride Cymbal
TRX's NRG Series is a new class of premium-quality, handcrafted cymbals developed to meet the needs of today's demanding rock, punk, hardcore and metal drummers. Featuring extreme weights, tapers and profiles along with special lathing and hammering that enable them to better project their upper frequencies, NRG cymbals have an "energetic," extra-bright, extra-powerful sound.
While most cast and hammered cymbals are known for their classic warmth and body, the NRG series offers a wide range of models that are significantly brighter and higher-pitched than traditional Turkish cymbals yet still musical and versatile.