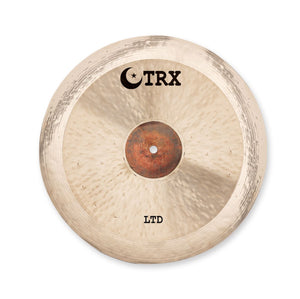 TRX Cymbals - 19 inch LTD Crash - Ride Cymbal
$34860

$348.60

Save $232.40
---
---
Available in 18″ through 23″ Crash-Ride models and matching 14″ and 15″ Hi-Hats and 19˝ and 21˝ Chinas, the LTD Series' three "zones" offer drummers a unique range of cymbals with a distinctive look and sound.
The outer edge of the LTD cymbals features a heavily polished finish that adds brightness and explosiveness to the crash component of the sound while the bell of the cymbal is has a natural finish to increase the definition and articulation of the ride sound. To maintain a balance between the LTD's clarity and power and its overall warmth and full-frequency tonal spectrum, the main playing surface has a more traditional lathed and hand-hammered finish.
Slightly heavier than the TRX MDM Series to further enhance their projection and durability, the TRX LTD line is recommended for a variety of contemporary playing situations.