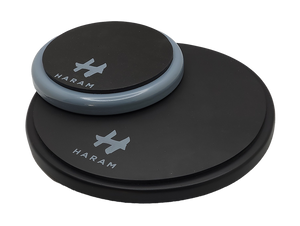 Haram Drumsticks - Practice Pad
HARAM PRACTICE PAD
The HARAM Practice Pad features a neoprene surface for a realistic rebound as if you were actually playing on a drum with little noise, making it perfect for those practice exercises! This practice pad can be placed over a 12" tom and it will also fit on any standard snare drum stand basket!
Features
•    Realistic drum rebound
•    Durable neoprene surface
•    Portable
•    Fits any standard snare drum
•    Anti-skid base for table top playing
•    Available in black or white
HARAM Mini PRACTICE PAD
The HARAM Mini Practice Pad is a 6" Version of the HARAM Practice Pad, this fun size makes it more portable and perfect to fit almost anywhere. Made with the exact same characteristics as his big brother, this pad brings a special featured a 8mm thread insert to easily mount on a cymbal stand!
Features
•    Realistic drum rebound
•    Durable neoprene surface
•    Super Portable
•    Fits any standard 8mm Thread Cymbal Stand
•    Anti-skid base for table top playing
•    Available in black or white