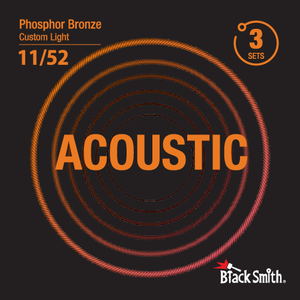 Black Smith - Phosphor Bronze Acoustic Guitar Strings - 3 Pack
Phosphor Bronze Acoustic Strings
BlackSmith acoustic guitar strings are made with the finest materials and manufactured using state-of-the-art automatic servo controlled winding equipment. USA made phosphor bronze and steel ensures a long lasting string with increased sustain and purer & warmer tone.
Our proprietary computer controlled winding technology produces strings with a very consistent wrap surface and even tension, resulting in stable tuning, accurate intonation, and superior playability.
Sub-Zero treated plain steel strings offer brilliant tone with a silky feel. With BlackSmith acoustic guitar strings, you will experience the perfect balance of consistency, tone, and playability. Vacuum Sealed in Patented Anti Kink Packaging Prevents Oxidation and String Damage.
3 Set Value Pack Light of our PB-1152 - Includes three sets of PB-1152, along with two extra 1st strings and a BlackSmith sticker!!
BlackSmith original "hybrid gauge" Phosphor Bronze acoustic set, for players who want a warmer tone in a comfortable combination of gauges that offers the depth and projection of light gauge bottom strings, but slightly less tension on the plain strings for easy bending.