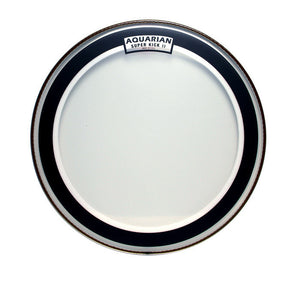 Aquarian Drumheads - Superkick II Clear Bass Drumhead
Cuts Through the Band
If you're looking for a bass drumhead with phenomenal tone, The Drummer's Friend got something to show you! The 22" Super-kick II from Aquarian Drumheads will arm your kick drum with a sharp, focused sound that cuts through the rest of the band. On top of that, thanks to its two 7-mil plies, the Super-kick II is seriously tough, durable enough to handle any beating that you can dish out. You can't go wrong with the Aquarian Drumheads 22" Super-kick II!
Aquarian Drumheads - helping drummers play music since 1980
Roy Burns and Ron Marquez founded Aquarian Drumheads on the philosophy that the drummer is the most important person, and that the aspiring player is the future of their business. Prior to forming Aquarian Drumheads, Roy was a world-famous big band drummer, teacher, and clinician. Ron was a systems analyst and manufacturing plant manager. The combination of Roy's drumming experience and Ron's technology background has helped Aquarian Drumheads to develop numerous innovative products, as well as a unique scientific approach to manufacturing.
Aquarian Drumheads Super-kick II Bass Drumhead Highlights:
Bass drumhead with a sharp, focused sound
2-ply design offers excellent durability
The Aquarian Drumheads Super-kick II will add kick to your bass drum!