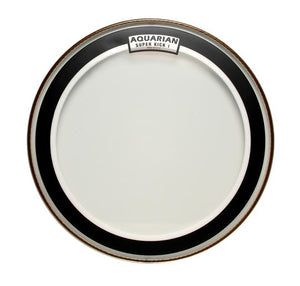 Aquarian Drumheads - Super Kick I Clear Bass Drumhead
The Superkick I (SKI) is a clear, 10mil single-ply bass drum head with an added Superkick ring that controls resonance, enhances low-end, and delivers a well-defined, focused attack. The patented "Floating Muffling System" uses a narrow band of acoustic felt for a pre-dampened, yet natural sound. The felt moves and "breathes" with the drumhead while eliminating unwanted hi-end frequencies and boosting low-end punch.
Often imitated, never duplicated, the Superkick line of bass drumheads is an industry best seller and a favorite among those drummers, drum techs, and recording engineers who want a musical, controlled bass drum sound without the use of blankets, pillows or external muffling.
All Superkick models deliver superior bass drum tone control without all the extra work.  Available in 14"-28" sizes for use with standard bass drum hoops.
Clear 10mil Single Ply Nu-Brite film for Pure Tone
Floating Muffle Ring for Resonance Control
Safe-T-Loc Hoops for "Pull-Free" performance
Available in Clear or White Texture Coated Models