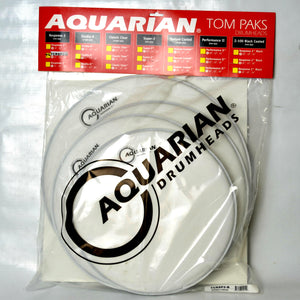 Aquarian Drumheads - Response 2 Texture Coated Drumheads Tom Pack
The Aquarian Response 2™is a two ply head manufactured with Aquarian's multi-ply vacuum molding process™ that eliminates air bubbles and wrinkles between the two 7 mil plies.

The Response 2™series is our most versatile two ply head and delivers a full sound with great attack and consistent tone from drum to drum.

This model is coated with Aquarian's exclusive Z100 Texture Coating for added warmth.

They can be tensioned tight or loose and have an clean, open sound with good attack. This series works great in all musical situations and are designed for drummers who play it all. 

Response 2 Texture Coated Drumheads Feature:
Two 7 mil plies
Added attack with Aquarian's patented Power Dot
Available in Aquarian's Black or White Z100 Texture Coating
Also each tom pack includes a FREE Texture Coated 14 inch snare drumhead.
The Texture Coated Series drumhead is a single ply, medium weight head that produces a responsive and resonant tone with sticks, mallets and brushes.
The Z-100 coating is the thinnest and most durable coating ever developed. Unlike conventional coatings, it resists chipping and it lasts and lasts and lasts. Available in both White and Black coating .
.
Aquarian "Safe-T-Loc"™ hoop, combined with our "Sound Curve" collardesign provides for easy tuning, great stick response and zero slippage inside the hoop. .
.
Aquarian's Texture Coated heads offer a consistent sound, increased resonance and a sensitivity that drummers expect from a traditional sounding drumhead.