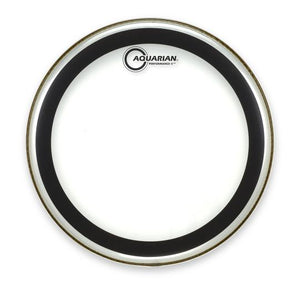 Aquarian Drumheads - Performance II Clear Drumhead
The Performance II is a two-ply head manufactured with Aquarian's Vacuum Tuned process that eliminates air bubbles and wrinkles between the plies. The two clear 7mil plies are glued and sealed only at the edges and tame unwanted overtones while focusing on the low frequencies.
These heads are designed for loose tuning and deliver that low, fat, punchy tom-tom sound that was a big part of classic rock and roll records. Frequency control that adds focused power is built right into this head.  The PFII is a great head to use to upgrade and immediately improve the sound of low-priced kits.
2-Plies of Clear 7mil film
Low, fat Frequency response with control
Made for loose tuning