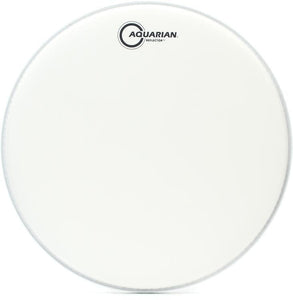 Aquarian Drumheads - Ice White Reflector Drumhead
Balanced and Controlled, with a White Mirrored Finish
Aquarian's Ice White Reflector drumheads are a new spin on the fan-favored Reflector head recipe. Like the standard Reflectors, the Ice Whites exude cut and control in innovative ways, employing dual layers of differently weighted films to balance warmth and note length. A stiff, 10-mil Smooth White under layer gives the Ice Whites the brightness and speed of a classic single-ply head. On top of that is a 7-mil layer of Aquarian's Nu-Brite film to warm the sound and control sustain. Together, these layers give Aquarian Ice White Reflector drumheads a balanced response, a unique mirror-like finish, and durability to go the distance. If you're already a fan of the Reflector series, you're going to love the Ice Whites Reflectors — available now at The Drummer's Friend
Developed with artist input from Eric Moore
Aquarian is a company that listens to its artists' needs. So when Eric Moore (Sly & the Family Stone, Suicidal Tendencies) requested a head with more attack and more depth for his showstopping solos, Roy Burns and company put their heads together to find out how to make it happen. The 2-ply, 17-mil Aquarian Ice White Reflector series is the result. And reportedly, Eric is loving the new life they bring to his performances.
Aquarian Ice White Reflector Drumhead Features:
Balances warmth, cut, and control
Built from 2 layers of differently weighted films
10-mil Smooth White bottom delivers brightness and speed
7-mil Nu-Brite top warms the sound and controls note length
Ice White mirrored finish creates a striking appearance from behind the kit
Durable without compromising tone
Developed with help from Eric Moore
.