Free Shipping on orders over $49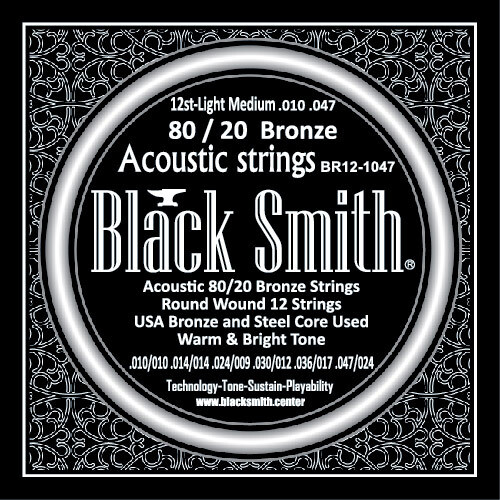 Black Smith Acoustic 12 String Guitar 80/20 Bronze 10/47
SKU 00128
Product Details
80/20 Bronze Acoustic Strings
BlackSmith acoustic guitar strings are made with the finest materials and manufactured using state-of-the-art automatic servo controlled winding equipment. USA made 80/20 bronze and steel ensures a long lasting string with increased sustain and extra-bright tone.
Our proprietary computer controlled winding technology produces strings with a very consistent wrap surface and even tension, resulting in stable tuning, accurate intonation, and superior playability.
Sub-Zero treated plain steel strings offer brilliant tone with a silky feel. With BlackSmith acoustic guitar strings, you will experience the perfect balance of consistency, tone, and playability. Vacuum Sealed in Patented Anti Kink Packaging Prevents Oxidation and String Damage.
BR12-1047 - BlackSmith's most popular 12-string 80/20 Bronze acoustic set, ideal for players who prefer a bright, enhanced tone with more projection. Optimized gauges for balanced string volume and comfortable playability.
Tension Chart
Note.
Code.
Diameter inches(mm)
Tension lbs(kg)
12:E
BW024
.024 (0.6096)
26.24 (11.9023)
11:E
BW047
.047 (1.1938)
18.52 (8.4005)
10:A
RD017
.017 (0.4318)
22.48 (10.1967)
9:A
BW036
.036 (0.9144)
23.14 (10.4961)
8:D
RD012
.012 (0.3048)
18.74 (8.5003)
7:D
BW030
.030 (0.7620)
24.91 (11.2990)
6:G
RD009
.009 (0.2286)
14.77 (6.6996)
5:G
BW024
.024 (0.6096)
26.01 (11.7979)
4:B
RD014
.014 (0.3556)
17.86 (8.1012)
3:B
RD014
.014 (0.3556)
17.86 (8.1012)
2:E
RD010
.010 (0.2540)
16.31 (7.3981)
1:E
RD010
.010 (0.2540)
16.31 (7.3981)
lbs Total = 243.15
kg Total = 110.291
Save this product for later